President Akufo-Addo has named new appointees for his office at the flagstaff house.
These new individuals are to help the president perform his function and carry out his mandate as the political leader of Ghana for the next 4 years.
In a statement released today, the Chief of Staff Hon. Akosua Frema Osei-Opare, Nana Bediatuo Asante, Eugen Arhin, Lord Commey have all maintained their positions.
Read Full Statement Below
PRESIDENT AKUFO-ADDO MAKES APPOINTMENTS TO HIS OFFICE
The President of the Republic, Nana Addo Dankwa Akufo-Addo, has made the following appointments to his office for his second term:
Hon Akosua Frema Osei-Opare  –    Chief Of Staff
Nana Bediatuo Asante                –     Secretary to the President
Mercy Debrah-Karikari                –     Secretary to the Cabinet
Brig. Gen. Emmanuel Okyere      –     National Security Advisor
Saratu Atta                                  –      P.A to the President
Emmanuel Adumua-Bossman     –    Deputy Chief of Staff
Fawz Aliu                                     –     Deputy Chief of Staff
Lord Commey                             –     Director of Operations
Emmanuel Kofi Bentum Arhin     –     Director of Communications
Sam Elis                                       –    Director of Personnel
Dr. Isaac Osei-Mensah                –    Director of Reserch
Kow Essuman                              –     Legal Consel to the President
Michael Ofori Atta                      –      Director for ECOWAS and Reginal Integration
The appointees are to undertake their duties in acting capacities, subject to consultation with the yet-to-be-constituted Council of State.
Eugene Arhin
Ag. Director of Communications 
Office of the President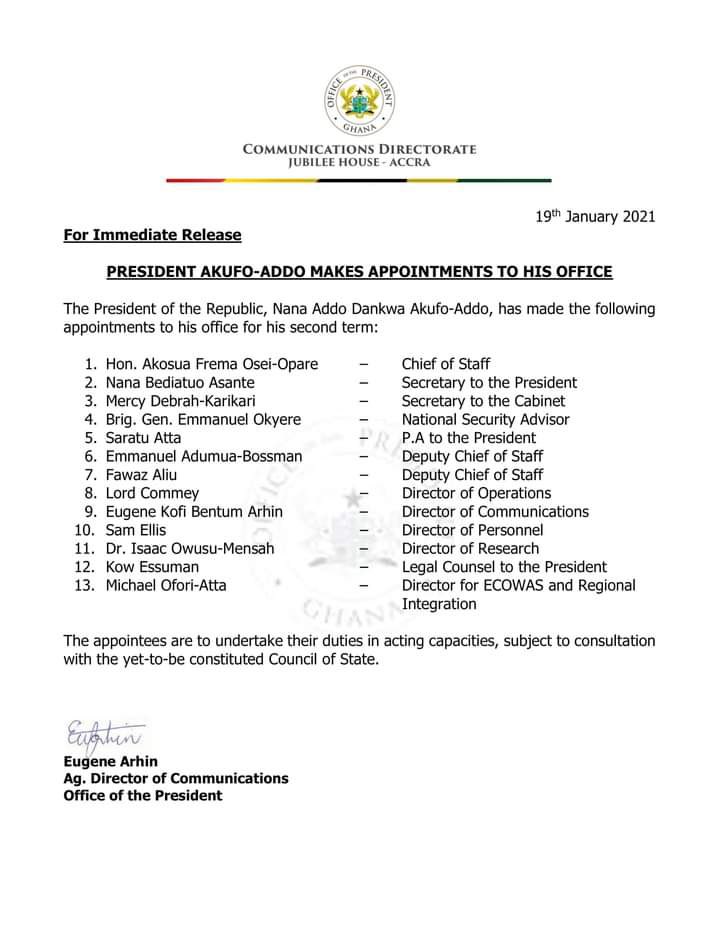 The post President Akufo-Addo names new appointees to his office for the second term appeared first on GhBase•com™.