22-year-old poet Amanda Gorman had a special role during the US 46th President's swearing ceremony reciting The Hill We Climb poem.
Her graceful and eloquent performance earned her a place in the heart of many people globally, who followed her across her social media platforms.
Amanda Gorman is a poet who called for unity using her performance during President Joe Biden's inauguration.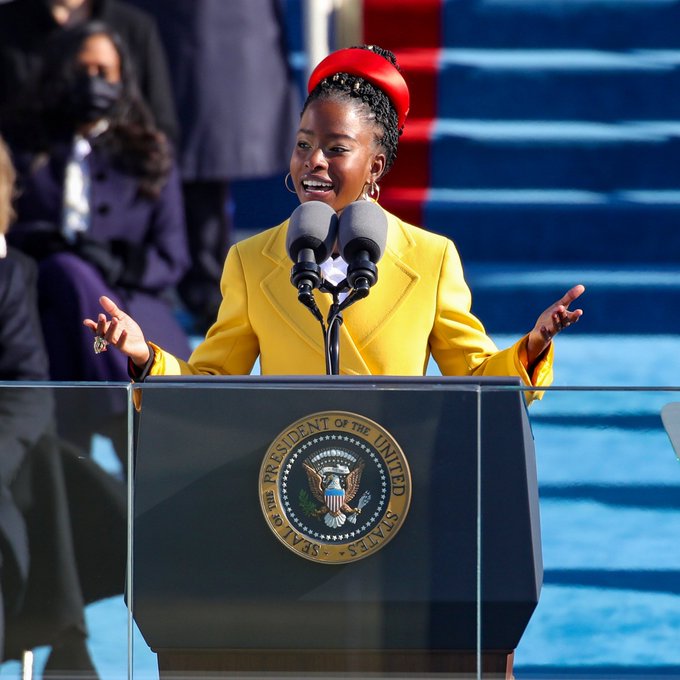 The 22-year-old was already a household name in the creatives industry, but the majority will remember her as the brave, confident young poet who called for unity during the swearing-in of the 46th president of the United States.
Her performance brought a light moment during the inauguration event, leaving most people tweeting her lines and following her on social media.
Before she took the podium, she had at least 886K followers, however, after her performance, everyone wanted to know who this poet who stole the show was, and by this morning, she had 2.1M followers on Instagram and 1.1m followers on Twitter. 
The Biden Inauguration team also shared a line from her powerful poem on their Instagram page:
Media mogul Oprah Winfrey also shared her joy on social media that was brought about by seeing this young black poet own the stage and leave people with words to ponder on.
She said: I have never been prouder to see another young woman rise! Brava Brava, Amanda Gorman! Maya Angelou is cheering—and so am I.
Before the inauguration, Amanda had been writing poems and sharing some of them online or in smaller events. She has even authored a children's book meant to inspire them to love who they are and be comfortable in their own skin.
The former first lady Michelle Obama also acknowledged her highlight of the day on Twitter, celebrating Amanda for her excellent performance:
With her strong and poignant words, @TheAmandaGorman reminds us of the power we each hold in upholding our democracy. Keep shining, Amanda! I can't wait to see what you do next. #BlackGirlMagic

Photo credit: Rob Carr pic.twitter.com/C2cf0U5iEj

— Michelle Obama (@MichelleObama) January 20, 2021
The post Young Black poet Amanda Gorman gets over 1M followers after her performance at Biden-Harris inauguration appeared first on GhBase•com™.